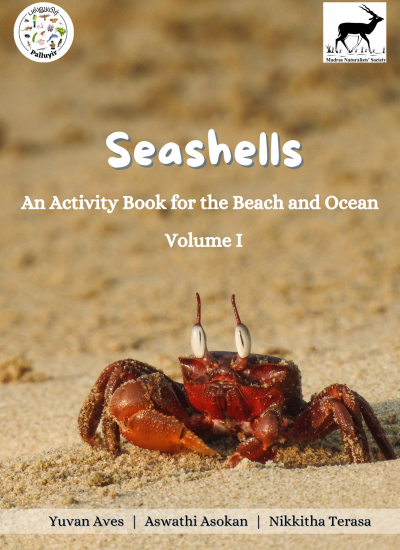 Seashells-
An Activity Book for the Beach and Ocean
This book is a collection of activities and lesson plans for learners and educators to experience coastal landscapes as rich living, learning spaces beyond any classroom. It is supported by a set of materials which can be downloaded from the website. The handbook is sensitive to the needs of different developmental planes in children and various learning styles. We are also curricularly aligning the handbook with the existing school syllabi, so that schools can use these not just as extra-curricular but also to enrich academic learning and performance, while at the same time awaken each child's innate passion for the natural world and inculcate environmental values. Our first volume of 'Seashells' is designed for Primary and Elementary children (Age groups 3-6 and 7-12) The first volume of this kit is now ready and we are looking to get it printed.
Read more here
For the printing of 100 copies of Seashells Volume 1 –
Budget: ₹ 80,000/- 



Do consider supporting our work in Nature education.
Our current requirement and goal is- 
₹ 80,000 /- 
(Rupees Eighty Thousand only)
(Tax exemption under Section 80G of the income tax Act can be availed by donors)